Plating of composite plastic for EMI shielding and grounding.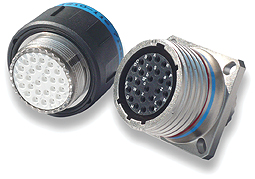 MSI is a leading electroplater to the interconnect industry, providing plated continuous strip and progressive stamped-bandoleer contacts, barrel plated screw machine contacts, and both metallic and composite connector shells. With 12 multi-finish, continuous plating lines and barrel and rack capabilities operating 24/5, and quality certifications to ISO 9001, AS9100, Nadcap-CP, ISO/TS 16949, and FAA Repair Station approvals, MSI provides state-of-the-art electroplating for today's demanding technology markets.
Interconnect applications in harsh commercial environments, such as communications towers and exposed outdoor uses, have promoted the use of composite structural plastics for connector shells and fittings. In addition, communications, manufacturing process control, aerospace and medical equipment requiring low or non-metallic signatures have also promoted such uses. The requirement for EMI shielding and grounding in such applications has established the need for high quality, uniform conductive coatings that completely cover the sometimes intricate surfaces of connector receptacles and plugs. These coating have to interface with spring rings and washers for continuity. Composite connector construction has benefited from enhanced corrosion protection with the application of these coatings providing endurance from salt spray exposure frequently exceeding 2000 hours.
MSI's Electroless Nickel and Electroless Gold finishes provide uniform, seamless, conductive surfaces on composite products manufactured from Ultem poyletherimide (PEI) and many other glass/carbon fiber filled plastics. Chemical or abrasive processing techniques provide excellent surface preparation followed by the coating/plating process.